DISSERTATIONS FROM DOC VARNELL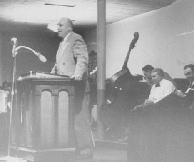 Throughout his career in the ministry, Doc Varnell published in tract form many of his doctrinal views. Several of these form much of what we consider to be our keystone beliefs in the formulation of Bethel Doctrine. As we are able to reproduce these, we will include them as attachments to this web page so that you may enjoy them too. They have been source material to many of us for many years. We hope you too may enjoy them, discuss them, study them with Bible in hand, and even perhaps, have an occasional doctrinal "discussion" of your own over some of these ideas.
---
Comment
Hi David,
We are Donaghy (Don) and Mary Hughes and live in Northern CA. We met Bro Varnell and Ruth at a church I was saved at in Pomona, CA. We are deeply indebted to them and their teaching as without it our faith might have been shipwrecked. We both were involved in the Pentecostal movement (initial evidence teaching) and were beginning to question many things. The students (us) were ready and the teacher appeared.
Bro Varnell took us under his wing and the rest is history! I was ordained by Bro Varnell and joined BMA in the mid-60s at a meeting he was holding in Marysville, CA while visiting us! (Rev Buddy Holder used to pastor the church there.)
I recently discovered the writings (tracts) by Bro. Varnell on your website. Thank you so much for making them available. Though many have, we have never wavered from his teaching. Again many blessings to you for your work with BMA and Bethel Publish House!
In Christ,
Don and Mary Hughes


---
Churches and Ministries - Missions - Youth Camp - Conferences - BPH - Leadership - Doctrine - History - Doc Varnell
---
Web Site Designed by Rev Dave Matthews. To contact him, send an e-mail to:
DaveM3333@aol.com

&nbsp